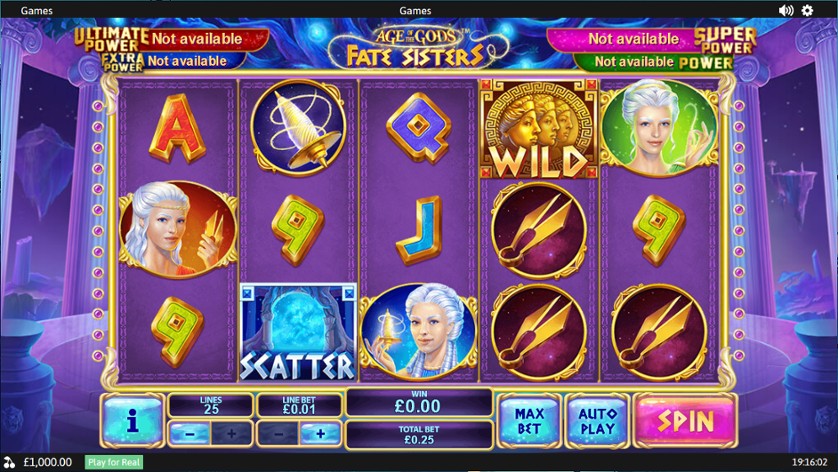 To play "Age of the Gods: Fate Sisters" in Playtech, follow these steps:
Set Your Bet: Before starting the game, set your desired bet amount. You can adjust the bet by using the "+" and "-" buttons located on the game screen. Ensure that you are comfortable with the bet amount before proceeding.
Spin the Reels: Once you have set your bet, click on the "Spin" button to start spinning the reels. The game features five reels and 25 paylines. The reels will spin and come to a stop, revealing various symbols.
Understand the Symbols: Familiarize yourself with the different symbols in the game. The symbols include characters from Greek mythology such as Lachesis, Clotho, and Atropos, as well as other thematic symbols. Each symbol has a different value and can contribute to winning combinations.
Trigger Bonus Features: "Age of the Gods: Fate Sisters" offers several exciting bonus features. One of them is the "Fates' Portal Free Games" feature, which is triggered by landing three or more scatter symbols on the reels. This bonus round awards free spins with various modifiers and can lead to big wins.
Win Jackpot: The game is part of the Age of the Gods series, which features four progressive jackpots: Power, Extra Power, Super Power, and Ultimate Power. These jackpots can be randomly triggered during any spin, giving you a chance to win a substantial prize.
AutoPlay Option: If you prefer automated spins, you can use the AutoPlay feature. It allows you to set a specific number of spins to be played automatically, without manually clicking on the spin button each time.
Cash Out or Continue: After each spin, you can decide whether to continue playing or cash out your winnings. If you choose to continue, repeat steps 2-7.